A Homeowner's Net Worth Is 40x Greater Than a Renter's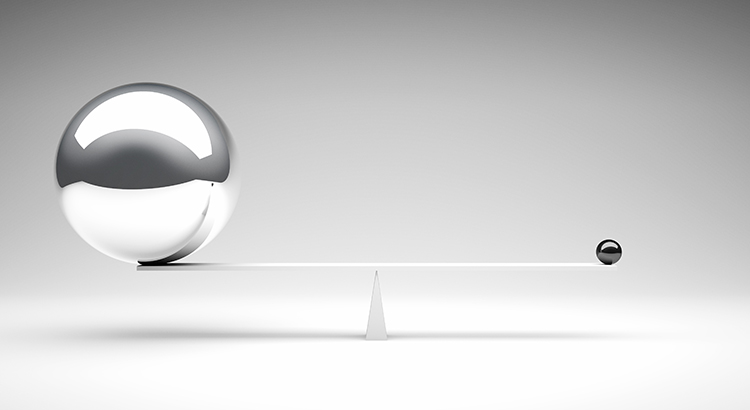 One of the best ways to build your family's financial future is through homeownership. Recent data from the Federal Reserve indicates the net worth of a homeowner is actually over 40 times greater than that of a renter. Maybe it's time to start thinking about buying a home, especially when they're so affordable in today's market.
Every three years the Survey of Consumer Finances shows the breakdown of how owning a home helps build financial security. In the graph below, we see that the average net worth of homeowners continues to grow, while the net worth of renters tends to hold fairly steady and be significantly lower than that of homeowners. The gap between owning and renting just keeps getting wider over time, making homeownership more and more desirable for those who are ready.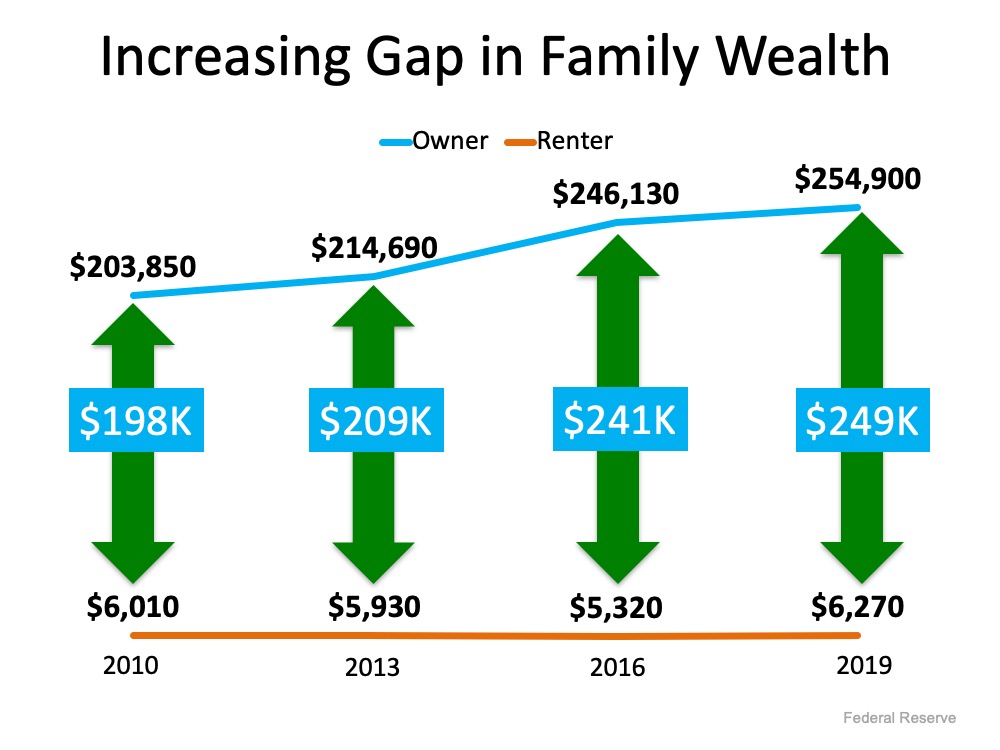 Owning a home is a great way to build family wealth.
For many families, homeownership serves as a form of 'forced savings.' Every time you pay your mortgage, you're contributing to your net worth by increasing the equity you have in your home (See chart below):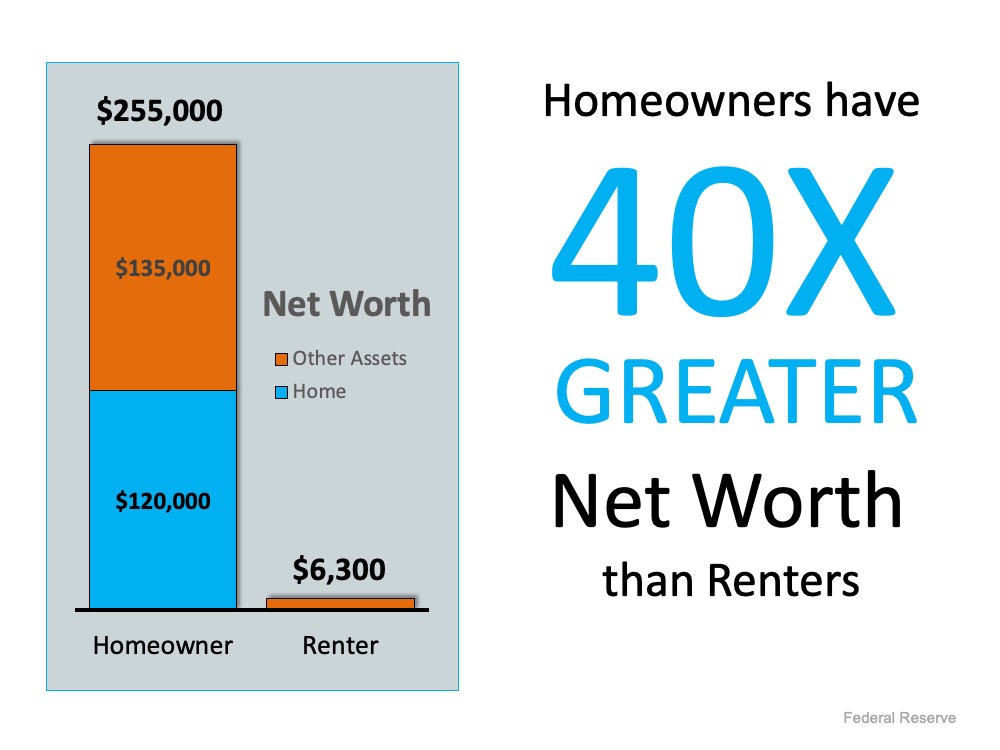 The impact of home equity is part of why Gallup reports that Americans picked real estate as the best long-term investment for the seventh year in a row. According to this year's survey, 35% of Americans chose real estate over stocks, savings accounts, gold, and bonds.
Today, there are great opportunities available for those planning to buy a home. The housing market has made a full recovery, and all-time low interest rates are giving homebuyers a big boost in purchasing power. If you're ready, buying a home this fall can set you up to increase your net worth and create a safety net for your family's future.
Bottom Line
To learn how you can use your monthly housing cost to build your family's net worth, let's connect so you have a trusted professional to guide you through the homebuying process.kmi
Move-Up vs. Second Home: Which One Is Right For You?
The pandemic has changed the way many of us live, work, and attend school—and those changes have impacted our priorities when it comes to choosing a home.
According to a recent survey by The Harris Poll, 75% of respondents who have begun working remotely would like to continue doing so—and 66% would consider moving if they no longer had to commute as often. Some of the top reasons were to gain a dedicated office space (31%), a larger home (30%), and more rooms overall (29%).1
And now that virtual school has become a reality for many families, that need for additional space has only intensified. A growing number of buyers are choosing homes further from town as they seek out more room and less congestion. In fact, a recent survey found that nearly 40% of urban dwellers had considered leaving the city because of the COVID-19 outbreak.2
But not everyone is permanently sold on suburban or rural life. Instead, some are choosing to purchase a second home as a co-primary residence or frequent getaway. Without the requirements of a five-day commute, many homeowners feel less tethered to their primary residence and are eager for a change of scenery after spending so much time at home.
If you're feeling cramped in your current space, you've probably considered a move. But what type of home would suit you best: a move-up home or a second home? Let's explore each option to help you determine which one is right for you.
WHY CHOOSE A MOVE-UP HOME?
A move-up home is typically a larger or nicer home. It's a great choice for families or individuals who simply need more space, a better location, or want features their current home doesn't offer—like an inground pool, a different floor plan, or a dedicated home office.
Most move-up buyers choose to sell their current home and use the proceeds as a downpayment on their next one. If you're struggling with a lack of functional or outdoor space in your current home, a move-up home can greatly improve your everyday life. And with mortgage rates at their lowest level in history, you may be surprised how much home you can afford to buy without increasing your monthly payment.3,4
To learn more about mortgage rates, contact us for a free copy of our recent report!
"Lowest Mortgage Rates in History: What It Means for Homeowners and Buyers"
One major benefit of choosing a move-up home is that you can typically afford a nicer place if you spend your entire budget on one property. However, if you're longing for that vacation vibe, a second home may be a better choice for you.
WHY CHOOSE A SECOND HOME?
Once reserved for the ultra-wealthy, second homes have become more mainstream. Home sales are surging in many resort and bedroom communities as city dwellers search for a place to escape the crowds and quarantine in comfort.5 And with air travel on hold for many families, some are channeling their vacation budgets into vacation homes that can be utilized throughout the year.
A second home can also be a good option if you're preparing for retirement. By purchasing your retirement home now, you can lock in a low interest rate, start paying down the mortgage, and begin enjoying the perks of retirement living while you're still fit and active. Plus, it's easier to qualify for a mortgage while you're employed, although you may be charged a slightly higher interest rate than on a primary home loan.6
One advantage of choosing a second home is that you can offset a portion of the costs—and in some cases turn a profit—by renting it out on a platform like Airbnb or Vrbo. However, be sure to consult with a real estate professional or rental management company to get a realistic sense of the property's true income potential.
WHICH ONE IS RIGHT FOR ME?
You may read this and think: I'd really like both a move-up home AND a second home! But if you're dealing with a limited budget (aren't we all?), you'll probably need to make a choice. These three tactics can help you decide which option is right for you.
Determine Your Time and Financial Budget
You may meet the bank's qualifications to purchase a home, but do you have the time, energy, and financial resources to maintain it? This is an important question to ask yourself, no matter what type of home you choose.
Most buyers realize that a second home will mean double mortgages, utilities, taxes, and insurance. But consider all the extra time and expense that goes into maintaining two properties. Two lawns to mow. Two houses to clean. Two sets of systems and appliances that can malfunction. Second homes aren't always a vacation. Make sure you're prepared for the labor and carrying costs that go into maintaining another residence.
Of course, some move-up homes require more work than a second home. For example, if your move-up option is a major fixer-upper, you'll probably invest more energy and capital than you would on a small vacation condo by the beach. Have an honest discussion about how much time and money you want to spend on your new property. Would a move-up home or a second home be a better fit given your parameters?
Rank Your Priorities
If you're still undecided, make a wish list of the characteristics you'd like in your new home. Then rank each item from most to least important. This exercise can help you determine your "must-have" features—and which ones you may need to sacrifice or delay. Here's a sample to help you get started:
| | |
| --- | --- |
| # | FEATURE |
| | Dedicated home office |
| | Extra bedroom |
| | Pool |
| | Walk to the beach |
| | Big backyard |
| | Close to friends and family |
| | Short commute to the office |
| | Investment potential |
Explore Your Options
Once you've determined your parameters and priorities, it's time to begin your home search.
If you're still not sure whether a move-up home or a second home is right for you, we can help.
Contact us to schedule a free consultation. We'll discuss your options and help you assess the pros and cons of each, given your unique circumstances.
We can also send you property listings for both move-up homes and second homes within your budget so you can better envision each scenario. Sometimes, viewing listings of homes that meet your criteria can make the decision clear.
LET'S GET MOVING
Whether you're ready to make a move or need help weighing your options, we'd love to help. We can determine your current home's value and show you local properties that fit within your budget. Or, if your heart is set on a second home in another market, we can refer you to an agent in your dream locale. Contact us today to schedule a free, no-obligation consultation!
Sources:
Just listed a gorgeous home on the east side of town, MLS#1853498, 6965 Battle Mountain Rd. 3/4 bed, 4 bath, 2 car, built in 1994, with almost 1800sf. Let me know if you would like to take a look. $330k
Chris Cooper
The Cutting Edge, Realtors
719-460-2925
Chris@CoRealEstate.com
Buyer & Seller Perks in Today's Housing Market
Buyer & Seller Perks in Today's Housing Market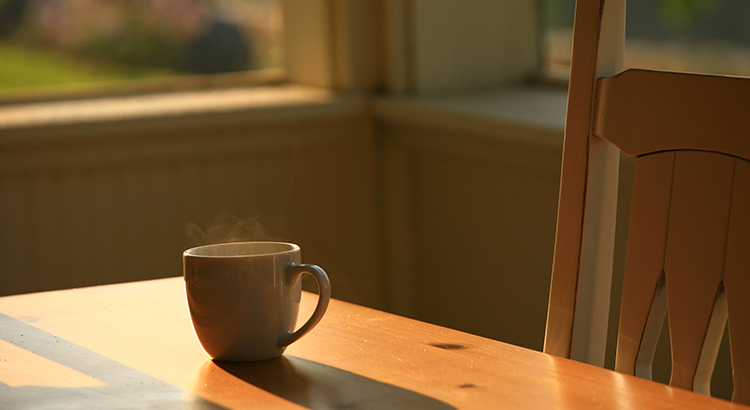 Right now, the housing market is full of outstanding opportunities for both buyers and sellers. Whether you're thinking of buying your first home, moving up to a bigger one, or selling so you can downsize this spring, there are perks today that are powering big moves for people across the country. Here are the top two to keep on the radar this season.
The Biggest Perk for Buyers: Low Mortgage Rates
Today's most compelling buyer incentive is low mortgage interest rates. The 30-year fixed-rate is now averaging just over 3%. While that's slightly higher than the record-lows from 2020 and earlier this year, it's still way lower than historic norms, making purchasing a home an ongoing perk for hopeful buyers (See graph below):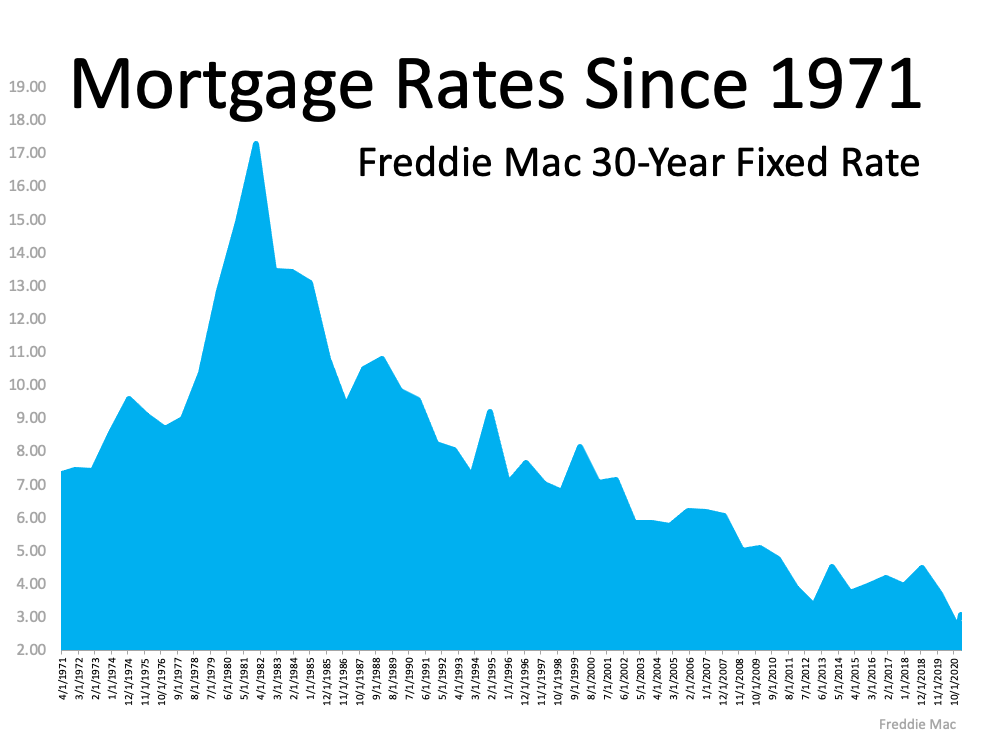 This is a huge advantage for buyers and helps to make owning a home attainable for more households – and there's good reason to strive for homeownership. The latest Homeowner Equity Report from CoreLogic shows how homeowners saw major gains in their net worth last year, all thanks to owning a home. Frank Martell, President and CEO of CoreLogic, explains:
"Positive factors like record-low interest rates and a booming housing market encouraged many families to enter homeownership. This growing bank of personal wealth that homeownership affords was noticed by many but in particular for first-time buyers who want a piece of the cake. As a result, we may see more of those currently renting start to enter the market in the near future."
Low mortgage rates are a plus for buyers right now, but experts forecast we'll see them continue to rise as the year goes on. If you're ready to purchase a home, it's wise to get started on the process soon so you can secure today's comparatively low rate.
The Biggest Perk for Sellers: Low Inventory
Today, there are simply not enough houses on the market for the number of buyers looking to purchase them, and it's creating a serious sellers' market. According to Danielle Hale, Chief Economist at realtor.com:
"Total active inventory continues to decline, dropping 50 percent. With buyers active in the market and sellers still slow to put homes up for sale, homes are selling quickly and the total number actively available for sale at any point in time continues to decline." (See map below):
The lack of houses for sale continues to challenge the market, and with low mortgage rates fueling buyer demand, homes are hard for buyers to find today. According to the latest Realtors Confidence Index Survey by the National Association of Realtors (NAR), the average house is now receiving 4.1 offers and is on the market for only 20 days.
Buyers are clearly eager to purchase, and because of the shortage of inventory available, they're often entering bidding wars. This is one of the factors keeping home prices strong and giving sellers leverage in the negotiation process.
Homeowners who are in a position to sell shouldn't wait to make their move. There's a light at the end of the tunnel for today's inventory shortage, so listing this spring will get your house on the market when conditions are most favorable. With low inventory and high buyer demand, homeowners can potentially earn a greater profit on their houses and sell them quickly in the fast-paced spring market.
Bottom Line
Whether you're thinking about buying or selling a home, there are major perks available in today's housing market. Let's connect today to discuss how these favorable conditions play to your advantage in our local area.